Athletics Superstars
Posted on: 13/06/2022
Since Easter all Yr 7-10 pupils have been taking part in athletics events during their Core PE lessons. The information gained from undertaking these has enabled us to select teams to compete in a number of local and national events.
The PE Department would like to take this opportunity to share with you how well they have done in these competitions, and to highlight some of the individual successes of three of our outstanding DGSB athletes.
District Championships Yrs 8 and 9
1st Overall as a Team
1st Place Finishes:100m- Redman 400m- Grajcar 800m- Knight LJ- Tonks TJ- Hooper Javelin- Collins Shot- Tonks Discus- Redman Relay- Tonks, Abed, Hooper, Redman
2nd Place Finishes: 200m- Abed 1500m- Pearce HJ- Mather

District Championships Yr 11
1st Overall as a Team
1st Place Finishes:100m- Saunders 200m- Saunders HJ- Twyman TJ- Saunders Javelin- Twyman Discus- McGee
2nd Place Finishes:800m- Twyman Shot- Templeman Relay- West, Twyman, Templeman, Saunders
3rd Place Finishes: 400m- Gibb

English Schools National Cup- Junior Boys Yrs 7 and 8
Regional A Finalists- 404 pts- NEW DGSB SCHOOL RECORD!
Year 7- Idehen, Purja and Scrivens
Year 8- Miah, Yeoman, Blanch, Henderson, Douglas-Birkett, Adlam-Hill, Redman, Bleu Potterton, Fielding, Long and Denning. (Also involved but not in the picture- Aston, Catterick and Cartwright)

English Schools National Cup- Inter Boys Yrs 9 and 10
Regional B Finalists- 375 pts
Year 9- D Pearce, M Hooper, A Tonks, (also involved but not in the picture- M Jones and B Mather)
Year 10- O Collier, J Williams, G Jenner, N Coleman, T Brooks-Sykes, M Scott, W Hughes, T Whittington, P Childs, F Loane and N Paterson (also involved but not in the picture O Harding)

Powell Trophy
1st Overall as a Team
Junior Boys
Year 8- J Fielding, J Yeoman, R Long, A Henderson, A Blanch and B Potterton
Inter Boys
Year 9- M Hooper, A Tonks, B Mather, M Knight and D Pearce
Year 10- P Childs, N Coleman, O Harding, O Collier, M Scott, G Jenner, T Brooks-Sykes and J Williams
Individual successes:
T Owler (Yr 12)
T Owler is currently ranked 13th in the Country for U20 400m.
He is also the current Kent County Champion and is expected to gain selection to represent Kent at the English Schools Championships in July.
N Paterson Yr 10
N Paterson is currently ranked 75th in the Country for U17 1500m.
He has represented Kent in various X-Country and Track and Field events this year and was part of the Kent team that won Silver at the English Schools X-Country Championships in March.
He is also the new Kent Schools 1500m Champion.
V Redman Yr 8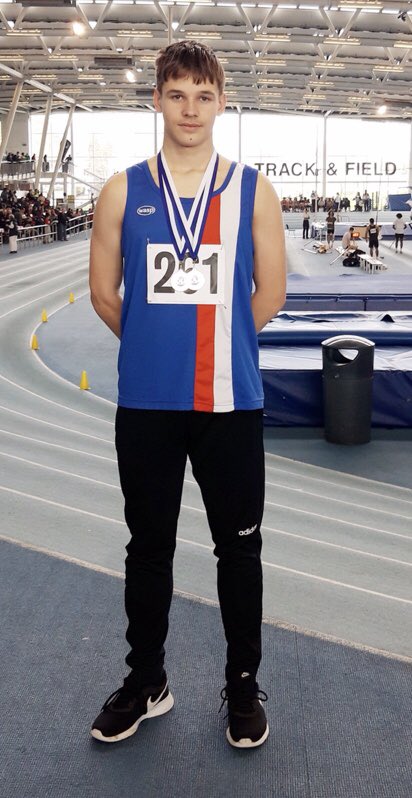 V Redman is currently ranked:
10th in the country for U15 60m (indoors)
7th in the country for U15 100m
42nd in the country for U15 200m
He is the current 60m and 200m indoor Kent County Champion as well as being the Silver medallist in the 100m and 200m at the Kent County Championships. Additionally, he was also the 100m Silver medallist at the recent Kent Schools Championships.